Letters of Authentication
The overwhelming biblical, archeological, and historical evidence has led many religious leaders throughout the world to recognize this location as the authentic site of Jesus' baptism.
On this page you'll find letters of authentication from top religious leaders and archeologists as well as uncover the primary evidences that lead authorities to confirm this site's authenticity.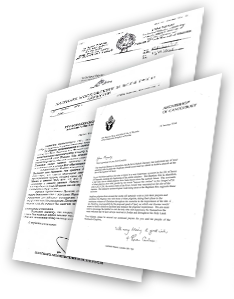 About the Baptism Site
This is the official website of the Baptism Site of Jesus Christ, where 2000 years ago Jesus came to be baptised by John:
 "Then Jesus came from Galilee to John at the Jordan to be baptized by him (Matthew 3:13)".
It was at this very spot that history was made and where for centuries hearts yearning for Divine Grace found untold blessings. After becoming lost the site was recently discovered, authenitified, and now home to hundreds of thousands of visitors annually from all different denominations and faiths who seek the blessings of a land graced by great prophets, saints, and the Messiah.
Learn About the site's history »
Learn About the Discovery »